Great news! Painting of Sorrow is now an audiobook.

Available at
Audible
,
Amazon
worldwide, and
iTunes
Painting of Sorrow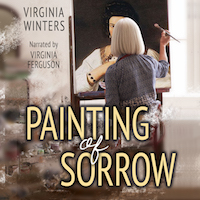 Art conservator Sarah is hiding in Canada, shielded by the US Witness Protection Program.
Someone betrays her and now Jimmy, her brutal ex-husband, is standing on her street, outside her house, waiting.
She must disappear but what about the Caravaggio she discovered and her boss wants to sell on the black market? And does Simon, the owner of the painting and her new love, want to keep the Caravaggio hidden?
How far will Sarah go to save a priceless old master? What will she give up?

Virginia Ferguson has produced and narrated Painting of Sorrow


Buy now at
Amazon
,
Audible
, or
iTunes
.
Apple Books
Painting of Sorrow (Unabridged) - Virginia Winters


First 15 sign-ups to my email list will receive a free download of Painting of Sorrow.